Two Stage Dual Fuel Burner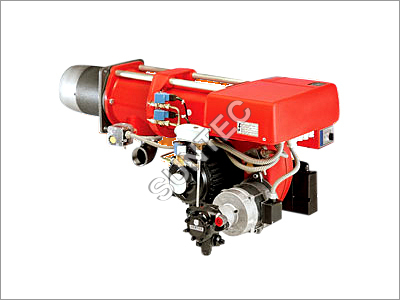 Two Stage Dual Fuel Burner
Product Description

We have emerged in offering our valuable customers with Two Stage Dual Fuel Burner. The fuel burners are widely demanded in the market as these products are very durable and deliver high performance especially when used with pressurized boilers. Expert professionals manufacture these products at our vendors base by using high quality components and materials. These burners can either be operated with gas or light oil. We are able to offer the Two Stage Dual Fuel Burner in various specifications to meet the needs of our customers.

Other details Of Two Stage Dual Fuel Burner :

The GI/EMME 300-900 series of burners covers a firing range from 107 to 922 kW. They have been designed for middle and high output users and they are in particular suitable for matching with pressurized boilers. Their use allow to have an high safety in operation, guaranteed from the double fuel supply.

Technical Data Of Two Stage Dual Fuel Burner :
Model
GI/EMME 300
GI/EMME 400
GI/EMME 600
GI/EMME 900
Burner operation mode
Two stage
Modulation ratio at max. output

2:1

Servomotor

run time

type

LKS 210

s

5


Heat output
kW

107/175 - 332

116/232 - 465
174/348 - 665

250/525 - 922
Mcal/h

92/150 - 286

100/200 - 400

150/299 - 572

215/452 - 793
Working temperature
oC min./max.

0/40


Fuel / Air Data



Oil

Net calorific value
kWh/kg

11,8

Viscosity
mm2/s ( cSt)

4-6 (at 20oC)

Delivery
kg/h

9/15 - 28

10/20 - 39

15/29 - 56

21/44 - 78
Pump

type



AN 67

AN 67

AN 77

AN 97
Delivery

kg/h

75 at 12 bar

75 at 12 bar

100 at 12 bar

120 at 12 bar
Atomised pressure

bar

12

Fuel temperature

max oC

60

Fuel preheater

NO


G20

Net calorific value

kWh/Nm3

10

Density

kg/Nm3

0,71

Gas delivery

Nm3/h

10,7/17,5 - 33,2

11,6/23,2 - 46,5

17,4/34,8 - 66,5
25/52,5 - 92,2

G25

Net calorific value

kWh/Nm3

8,6

Density

kg/Nm3

0,78

Gas delivery

Nm3/h

12,4/20,3 - 38,6

13,5/27 - 54

20,2/40,4 - 77,3

29/61 - 107,2

LPG

Net calorific value

kWh/Nm3

25,8

Density

kg/Nm3

2,02
Gas delivery

Nm3/h

4,1/6,8 - 12,9

4,5/9 - 18
6,7/13,5 - 25,8

9,7/20,3 - 35,7
Fan

type

Centrifugal with forward curve blades

Air temperature

max oC

60

Electrical data

Electrical supply

Ph / Hz / V

1/50/230 (+ 10%)

3N/50/230-400 (+10%)
Auxiliary electrical supply

Ph / Hz / V

1/50/230 (+10%)
Control box

type

LFL 1.333

Total electrical power

kW

0,5

0,62

1,1

2
Auxiliary electrical power

kW

0,1
0,1

0,2

0,35
Heaters electrical power

kW

--

Protection level

IP

44

Pump motor electrical power

kW
0,15
Rated pump motor current

A

1,4

2,85
Pump motor start up current

A

3,2

6,5
Pump motor protection level

IP

44
Fan motor electrical power

kW

0,25

0,37

0,75

1,5
Rated fan motor current

A

1,85
2,9
2,85/1,65

6,55/3,15
Fan motor start up current

A

4,2

6,6

6,5/3,8

32,75/15,75
Fan motor protection level

IP

44


Ignition transformer

type

--

V1- V2

230 V - 1x8 kV

I1 - I2

1,8 A - 30 mA

Operation

Intermittent (at least one stop every 24h)

Approval Emissions

Sound pressure

dB(A)

69

74

82
84
Sound power

W

--





Oil


CO emission

mg/kWh

< 30

Grade of smoke indicator

N Bacharach

--

CxHy emission

mg/kWh

--

NOx emission

mg/kWh

< 200

G20

CO emission

mg/kWh

< 60

NOx emission

mg/kWh

< 120

Directive

89/336 - 73/23 EEC

Conforming to

EN 267 - EN 676

Certification

--